The Museum
When the Church was first purchased from the General Trustees of the Church of Scotland in 1988, discussions lead to a Grand Plan of perhaps starting up a Museum of Rural Life. Two years later an article in the local press asked for interested local residents to help to secure old artifacts of any sort. In a short time there had been an amazing response.
A wise woman, Mrs. Mary Bowran, one of the initial Trustees, had experience of recording and cataloguing. It was she who enabled the initial exhibition to take place. Over two consecutive weekends the interested community flocked through the doors in the summer of 1990.
Thus encouraged, the plan to open up during the summer months took shape. To help get started, the huge support and advice of Biggar Museum Trust must be mentioned.
The collection now numbers hundreds, even thousands of interesting items, only some of which can be on display at any time.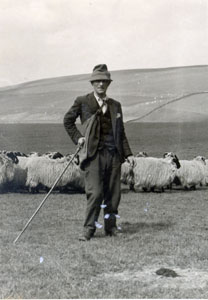 Coaxed, guided and chivvied by professionals, often in their spare time, the volunteers created an Association of Friends of Crawfordjohn Heritage Venture.
They have been well supported by tourists or returning expatriots also people with roots in the area, but the hardcore of locals have worked very hard. They are the lifeblood of a fairly young creature, The Heritage Venture Museum, which started with regular weekend openings in 1991.
After an enormous amount of work and many procedures, the great day dawned in 2004 and the Museum achieved registration, with particular thanks due to Mr Robert Clark MA, the former part time Curator. We were extremely grateful to our Museum Mentor, Elaine Edwards, Senior Curator, based at the National Museum of Rural Life, who guided us to achieving Full Accreditation with Museums Galleries Scotland in 2011. Our current Museum Mentor is Duncan Dornan who has recently been appointed Senior Manager with Glasgow Museums.
The Museum is self-supporting, and independent. There are no grants available for running costs, so fund-raising is an on-going problem and challenge, and more volunteers are always sought and welcomed.